Malcolm Shuman has been practicing archaeology for more than 40 years, and publishing fiction even longer. After serving in the US Army, he earned a doctorate in anthropology from Tulane University in 1974, and has traveled much of the world, carrying out archaeological and anthropological work in the U.S., France and Mexico.
Happily, MysteriousPress.com has recently re-released fifteen of his novels published in the 1980s and 1990s, including the books in his three mystery series–the Micah Dunn mysteries, set in New Orleans (St. Martin's Press), the Pete Brady mysteries, set in one of those small north Louisiana towns where murders never (and of course, always) happen (St. Martin's Press), and the Alan Graham mysteries, featuring a Baton Rouge archaeologist who solves mysteries past and present (Avon Books).
His single-title books have also been re-released, including his well-received 2009 novel The Levee, a fictionalized coming-of-age story based on a real-life 1950s cold case.
Kindle version just released!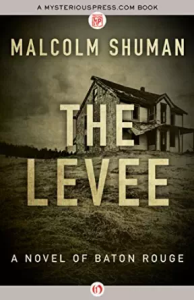 THE LEVEE
True-crime writer Colin Douglas returns to his boyhood home to solve the mystery that's haunted him since 1959–a novel based on a real Louisiana murder that remains unsolved.
"[Shuman] knocks one out of the park with . . . this compelling, deftly written story." —Booklist, starred review of The Levee
Alan Graham Book 1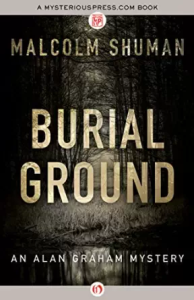 BURIAL GROUND
Hired by a wealthy landowner to search his property for a cache of long-lost Tunica Indian relics, archaeologist Alan Graham expects to find only dirt. But when the client is murdered for his curiosity, Alan knows he is close to the discovery of a lifetime…
"History and mystery, both deftly handled, with an engaging, thoroughly decent protagonist." –Edgar Award winning author Aaron Elkins